Our Commodities business segment provides waste management solutions, treatment, recovery and recycling of industrial waste, electronic waste, and lithium-ion batteries for the electric vehicle industry.
Based in Singapore with an established track record of more than 35 years, our established wholly-owned subsidiary, SMC Industrial Pte. Ltd. ("SMCI"), is committed to offer recovery and recycling solutions and services to our customers to address the increasing concerns about waste generation, in particular, electronic and lithium-ion battery waste.
With a continual focus on improving our process and technology to make recycling both convenient and affordable, we are focused on ensuring waste is recycled and integrated back into the supply chain, where it belongs.
One of our key waste management services is 'battery recycling' which the recycling process typically begins with the receipt of one of the following waste sources:
discarded electrical or electronic equipment ("e-waste") such as spent lithium-ion battery from portable devices;
battery manufacturing waste generated by manufacturer(s) that made battery for electric vehicles / energy storage systems; and
end-of-life battery modules generated from scraped electric vehicles. Additional steps are required for end-of-life batteries at recycling facilities, where they undergo testing, discharging, and disassembly.
The waste batteries are then subjected to a shredding process, followed by the separation of electrode active material and current collector foil. This process yields multiple material fractions including "black mass", which is a powder form containing valuable materials such as nickel, cobalt, lithium, and graphite.
Currently, this "black mass" is used as a feedstock by our downstream customers for two processing purposes: (i) hydrometallurgical processing which involves in treating the screened "black mass" extensively with acids to dissolve metals, and (ii) pyrometallurgical processing which involves smelting batteries in a furnace to recover cobalt, nickel, and copper in the form of alloys.
There are several innovative recycling processes that are currently under research and development, for which the "black mass" will be also used as feedstock.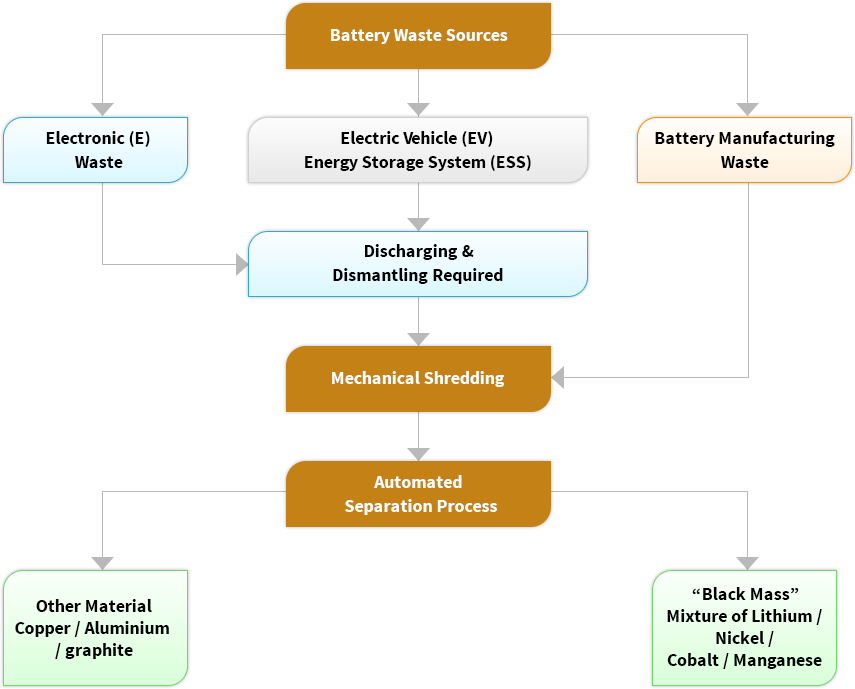 SMCI is certified with ISO 9001:2015 standards by LRQA on the recycling and sales of e-wastes, ferrous and non-ferrous metals.
SMCI is licenced by the National Environment Agency of Singapore for the establishment and operations of Lithium-ion Battery Recycling Facility.
SMCI is licenced by the National Environment Agency of Singapore as a Toxic Industrial Waste Collector.
SMCI is licenced by the National Environment Agency of Singapore as a Class A General Waste Collector.
The Group remains committed to strengthening our core business segments, particularly the Commodities segment as e-waste recycling is one of the significant solutions to address the depletion of natural resources.